Eugene Solla
April 17, 2022
Hello there! The UP Diliman Office of the Vice Chancellor for Student Affairs' #OpportunitiesCorner is an update on available scholarships, exchange programs, conferences, workshops, and other skill-enhancing initiatives for UP Diliman students. Here's for the third week of April 2022!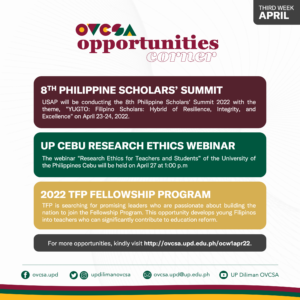 8th Philippine Scholars' Summit
The University Scholars Association of the Philippines, Inc. (USAP), in partnership with UST Becarios de Santo Tomas, will be conducting the 8th Philippine Scholars' Summit 2022 with the theme, "YUGTO: Filipino Scholars: Hybrid of Resilience, Integrity, and Excellence" on April 23-24, 2022 via Zoom Conference. Along with the summit, delegates may join in various competitions/contests (Please see attached guidelines).
A minimal registration fee will be collected to defray the administrative cost during the conduct of the event.
Please register using the link provided below to reserve slots for the event as early as now.
For inquiries, you may contact 09568012220 or email at phscholars@gmail.com or send a private message (PM) through the FB Page https://www.facebook.com/phscholars
Research Ethics for Teachers and Students
The webinar "Research Ethics for Teachers and Students" of the Teaching and Learning Resource Center – University of the Philippines Cebu will be held on April 27 at 1:00 p.m. via Zoom, with resource speaker Prof. Magnolia A. Laus of UP Cebu.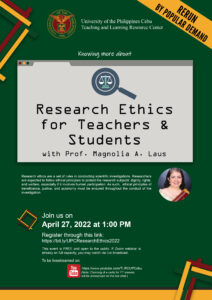 To join, register at http://bit.ly/UPCResearchEthics2022.
This will also be streamed live at http://www.youtube.com/TLRCUPCebu.
2022 TFP Fellowship Program
Have you been thinking about the possibility of leading positive change in a purposeful career? If so, the 2022 Fellowship Program is right here waiting for you!
Teach for the Philippines is searching for promising leaders who are passionate about building the nation through education to join the Fellowship Program. This full-time, fully-paid career opportunity develops young Filipinos into teachers who can significantly improve student learning outcomes, spark positive change in the public school communities and contribute to education reform.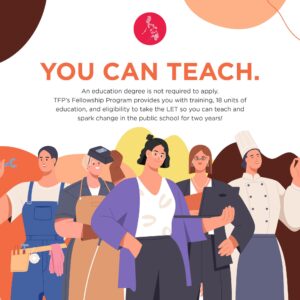 A Teacher Fellow gets access to a two-year employment and leadership development opportunity that offers:
A competitive entry-level salary and benefits
Specialized training, individualized coaching and mentoring to develop your skills in teaching, leadership, and community engagement
Opportunity to earn 18 units of education and eligibility to take the Licensure Examination for Teachers (LET)
A culture of excellence, continuous improvement, and collaboration
Opportunity to expand your network and jumpstart a career in education reform beyond the Fellowship Program
You are eligible if you have:
A bachelor's degree (any field!) College seniors graduating before or by June 2022 are eligible to apply.
Filipino citizenship or proof of eligibility to hold a Philippine passport
Becoming a Teacher Fellow is an opportunity to unlock your full potential as a committed, driven, and passionate advocate for education. If you are a graduating student and are ready to launch a career in education reform right after university, then the 2022 Fellowship Program is for you! Click now to apply before admissions closes on April 17 (Sunday): http://teachforthephilippines.com/join
If you are an undergraduate with a few years left to graduation, let's stay in touch! We invite you to sign onto our mailing list for updates about the Fellowship Program and future admissions: https://bit.ly/2022TFPMailingList
For questions you can email us directly at admissions@teachforthephilippines.org.
All the best!
---