ovcsa_user
September 21, 2023
Hello there! The UP Diliman Office of the Vice Chancellor for Student Affairs' #OpportunitiesCorner is an update on available scholarships, exchange programs, conferences, workshops, and other skill-enhancing initiatives for UP Diliman students. Here's for the 3rd week of September 2023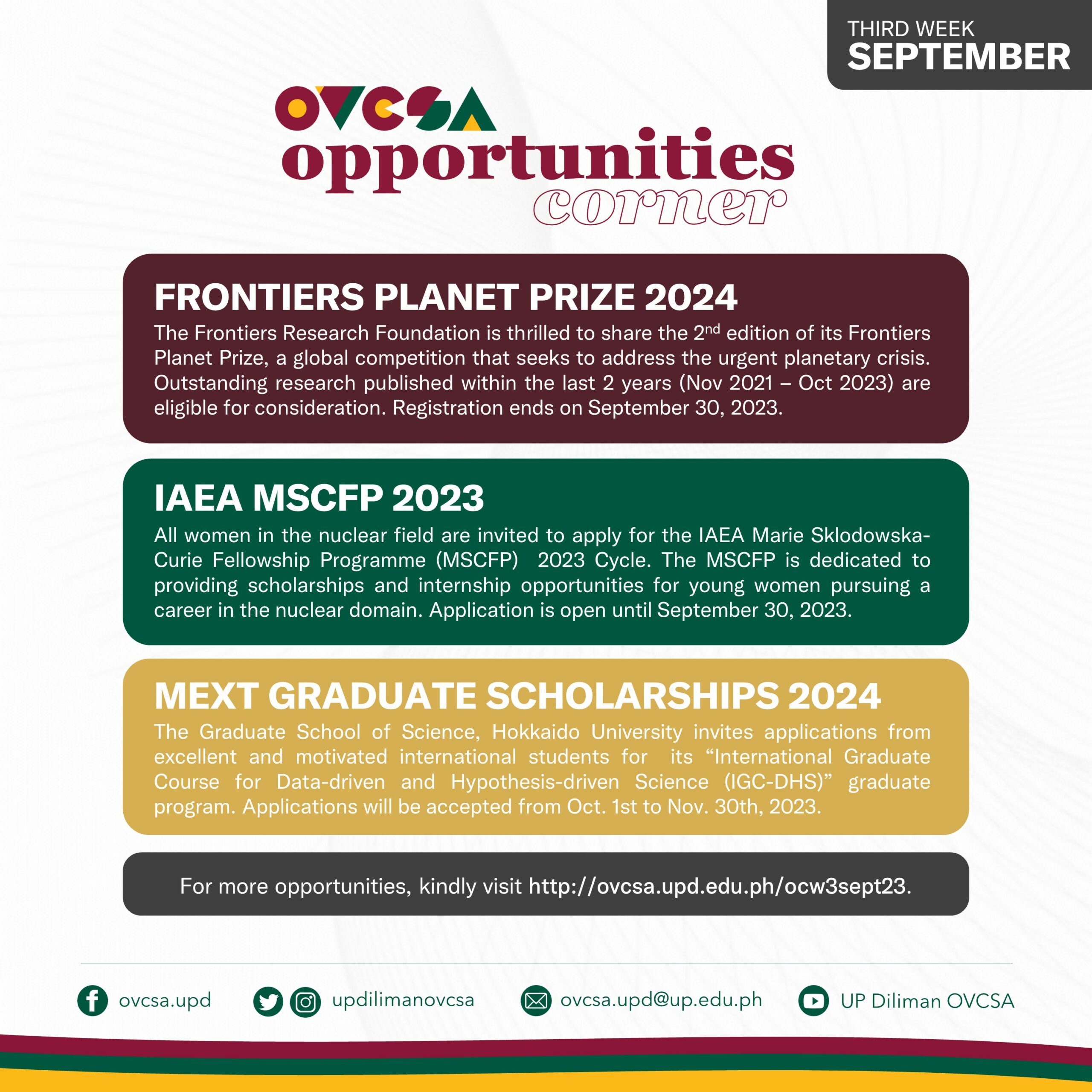 FRONTIERS PLANET PRIZE 2024
Be part of the 2nd edition of the Frontiers Planet Prize, a global competition that seeks to address the urgent planetary crisis. The goal is to rally scientists across the world and showcase their groundbreaking research aimed at stabilizing our planet's delicate ecosystem.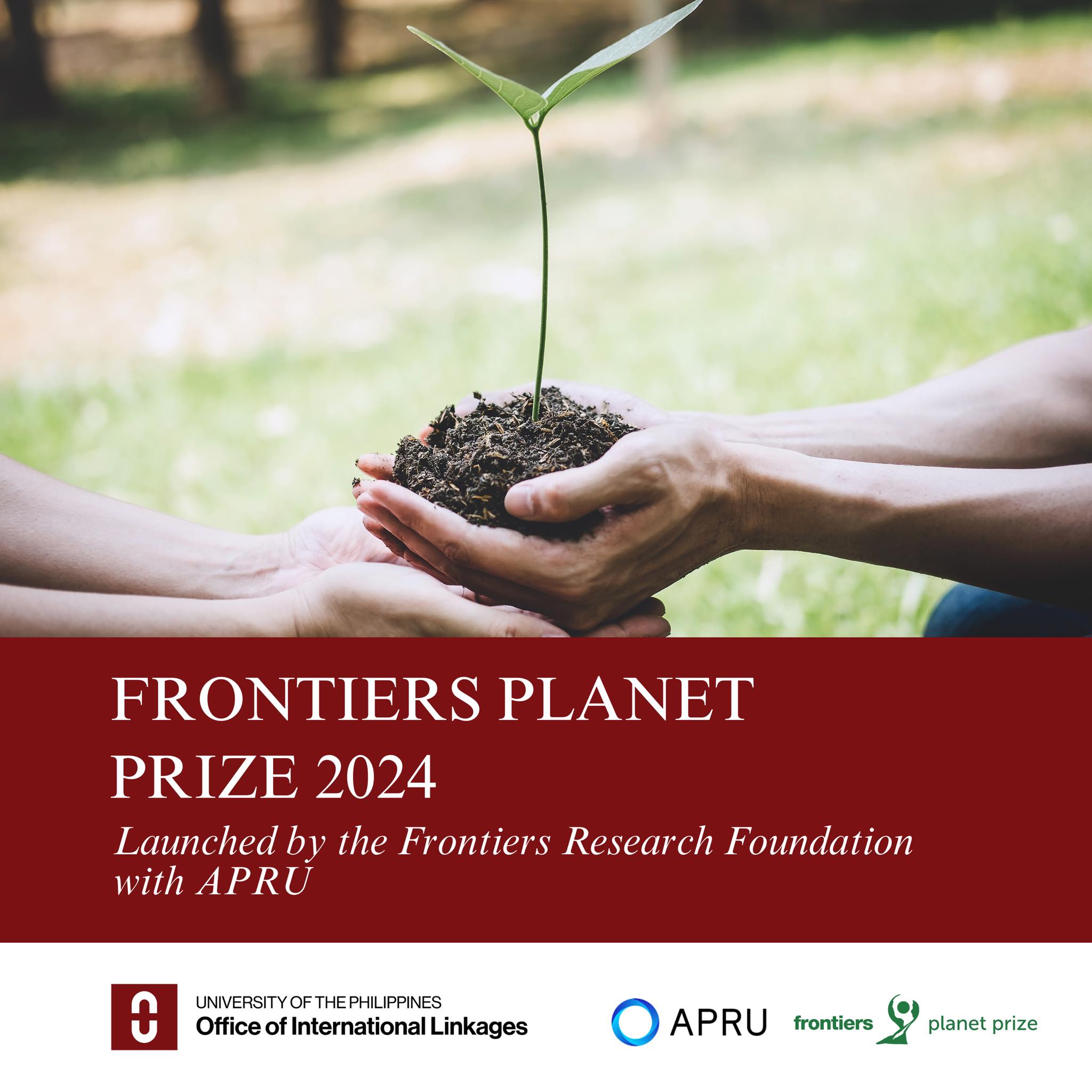 Competition Highlights:
Launched by the Frontiers Research Foundation, this prestigious competition aims to recognize a National Champion from each participating country. Furthermore, three International Champions will be selected, each receiving CHF 1 million. These champions will be chosen by an independent Jury of 100.
The primary focus of the competition is to tackle any of the 9 planetary boundaries, as outlined by Professor Johan Rockström and Owen Gaffney in their pivotal work, "Breaking Boundaries."
Eligibility & Recognition:
Outstanding research published in reputable scientific journals within the last two years (Nov 1, 2021 – Oct 31, 2023) is eligible for consideration.
Each International Champion will be awarded CHF 1 million, a substantial prize to advance their groundbreaking research. The award ceremony will be held in Montreux, Switzerland, in June 2024.
How to Participate:
Don't miss out! Register by September 30, 2023, to receive further details on the timeline and submission process. Scientists at any career stage are encouraged to apply and represent their research groups. The deadline for submitting nominations is November 1, 2023.
Our Collective Responsibility:
Our scientific community holds the key to guide and secure humanity's future. Let's stand together, sharing our knowledge and innovative ideas to pioneer real-world solutions that will ensure the Earth thrives.
For Inquiries:
Should you have any queries or need more information, reach out to Gilbert De Gregorio, Head of Partnerships at the Foundation, via email at gilbert.degregorio@frontiersplanetprize.org.
THE IAEA MARIE SKLODOWSKA-CURIE FELLOWSHIP PROGRAMME
The IAEA Marie Sklodowska-Curie Fellowship Programme (MSCFP) is a pathway to inspire and support young women in pursuing a fulfilling career in the nuclear domain. The MSCFP is dedicated to providing scholarships and internship opportunities, connecting selected students pursuing a Master's degree in nuclear-related subjects with the esteemed IAEA.
Who should apply? Eligibility Criteria:
Female candidates passionate about the nuclear field
Accepted by or enrolled in an accredited university for a Master's programme in a nuclear-related field
Preference for applicants with exceptional academic records (75% or above, or GPA > 3.0 out of 4.0)
Fields of Study:
This programme supports aspiring women in various nuclear-related fields relevant to IAEA's mission to advance safe, secure, and peaceful uses of nuclear science and technology. Fields include nuclear engineering, nuclear physics and chemistry, nuclear medicine, isotopic techniques, radiation biology, nuclear safety, nuclear security, non-proliferation, and nuclear law.
How to Apply:
Applying is easy! Along with the completed online application form, ensure you have the necessary documents including identification, acceptance/admission letter from your university into the Master's programme, statement of tuition fees, and completed reference forms. All documents must be submitted in English.
Application Deadline: The application process for the MSCFP 2023 cycle is open until 30 September 2023.
MSCFP Award:
The selected students have a chance to receive up to €20,000 for tuition costs and an additional €20,000 for living expenses during their Master's programme.
Obligations:
Upon acceptance, recipients will confirm their commitment to the fellowship, including award details and administrative requirements.
Contact:
For all inquiries regarding the IAEA Marie Sklodowska-Curie Fellowship Programme, send an email to MSCFP@iaea.org.
2024 JAPANESE GOVERNMENT SCHOLARSHIP (MEXT) FOR GRADUATE STUDENTS
The Graduate School of Science, Hokkaido University established a new international graduate program "International Graduate Course for Data-driven and Hypothesis-driven Science (IGC-DHS)" in 2023. The IGC-DHS aims to develop the next generation of top scientists with both data-driven and hypothesis-driven multifaceted perspectives in the natural sciences. We are currently seeking out well-motivated and excellent international students to join the IGC-DHS. The focus of study should be one of the following; Mathematics, Cosmosciences, Condensed Matter Physics, Earth & Planetary Sciences, Earth & Planetary Dynamics, Seismology & Volcanology, Biodiversity, and Science Communication.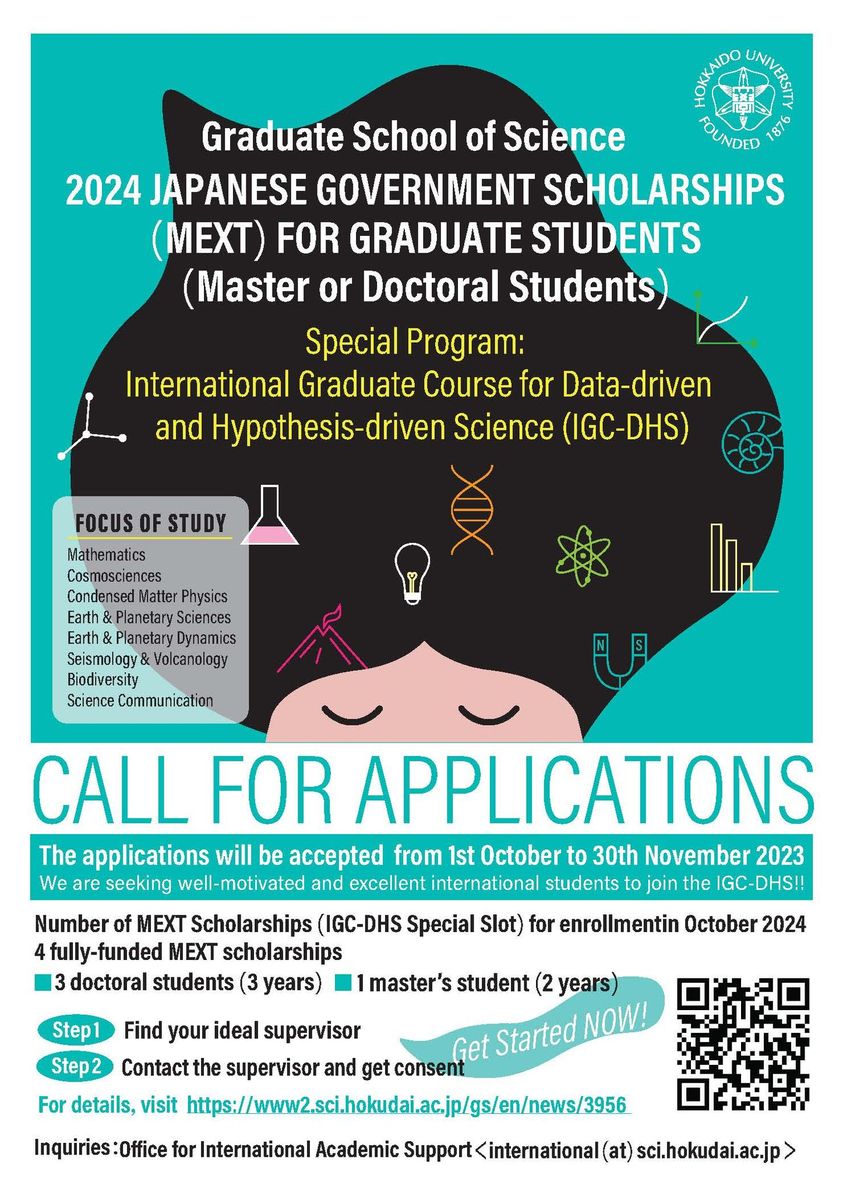 Number of MEXT Scholarship (IGC-DHS Special Slot) for enrollment in October 2024:
4 fully-funded MEXT scholarships
● 3 doctoral students (3 years)
● 1 master's student (2 years)
The application will be opened from 1st October to 30th November 2023.
Tentative application procedure (for enrollment in October 2024)
Check basic requirements for the application.
Contact prospective supervisors to discuss your suitability for this scholarship as soon as possible. You can find lists of faculty members on the following web pages.
・ Mathematics: https://www2.sci.hokudai.ac.jp/gs/en/dm
・ Condensed Matter Physics: https://www2.sci.hokudai.ac.jp/gs/en/dcmp
・ Cosmosciences: https://www2.sci.hokudai.ac.jp/gs/en/dc
・ Natural History Sciences: https://www2.sci.hokudai.ac.jp/gs/en/dnhs
(If you have a problem finding the e-mail addresses of prospective supervisors, please contact the Office for International Academic Support international@sci.hokudai.ac.jp for support.)
(We recommend attaching objective data about your qualification (such as CV, transcripts, a score of English language proficiency, motivation letter, etc.) when contacting prospective supervisors.)
After your prospective supervisor agrees with your application to the scholarship, submit the following documents (a~e) in PDF format to the Office for International Academic Support <international (at) sci.hokudai.ac.jp> from 1st October to 30th November 2023 for the initial screening.
Initial screening documents
a. Application Form (Appended Form 5) *
b. Field of Study and Study Program (Appended Form 6)
c. A copy of a recent official academic transcript
d. A copy of objective evidence of the eligibility of English proficiency (incl. Cambridge ESOL/IELTS/TOEFL iBT/TOEIC L&R/TOEIC S&W certificates)
e. Checklist
* Insert a passport-style photograph taken in the last 6 months in electronic format onto your application form, cut to 45mm x 35mm, upper body, full-faced, uncapped.
Initial screening in each department.
Final screening by the IGC-DHS committee (tentative: December 2023)
The successful applicants will be notified and asked to submit additional documents as follows. (tentative: January 2024)
– Recommendation letter (from the dean or above level person in charge in your home institution, addressed to the President of Hokkaido University)
– Photocopy of a valid passport
– Official Transcript issued by the last academic institution previously attended
– Additional info confirmation sheet
– Certificate of graduation (or expected graduation) or diploma
– Objective data that indicates that the applicant's academic excellence
– Summary of master's degree thesis (or undergraduate research)
– Objective documents that indicate the applicant's English proficiency
Students who passed the final screening will be recommended to the MEXT (Japanese government) by Hokkaido university's president in March 2024.
MEXT determines the scholarship recipients and each scholarship period.
Final outcomes will be announced in June 2024 (tentative)
Notes
i) All documents mentioned above must be submitted in English. Documents should be word processed on A4 white paper wherever possible.
ii) Submitted documents will not be returned to the applicant.
iii) Ensure each scanned or saved image is clear and easy to read before submitting your application.
iv) Incomplete or incorrect application documents, or applications with insufficient supporting documents will be excluded from consideration.
v) Late applications will be excluded from consideration (deadlines should be strictly observed).
vi) In some countries, an administrative authority representative may issue documents such as recommendation letters or certificates of graduation. The applicants are advised to confirm the content to be written on their graduation documents with their former/graduating university.
If you have any inquiries, do not hesitate to contact to Office for International Academic Support <international@sci.hokudai.ac.jp>
---