Eugene Solla
March 5, 2021
Hello there! The UP Diliman Office of the Vice Chancellor for Student Affairs' #OpportunitiesCorner is a weekly update on available scholarships, exchange programs, conferences, workshops, and other skill-enhancing initiatives for UP Diliman students. Here's for Week 1 of March 2021!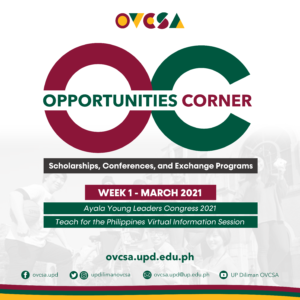 Ayala Young Leaders Congress 2021
The Ayala Corporation has begun the search for participants to the 23rd Ayala Young Leaders Congress (AYLC 2021) which will be held mid-year.
Ayala launched the Ayala Young Leaders Congress in 1998 as a corporate social investment program, specifically targeting youth development and leadership. The AYLC is 4-day leadership summit for top student leaders from universities and colleges nationwide that aims to hone effective, principle-based leadership skills and potential, promote service as the value orientation of leadership, and instill a deep sense of idealism, societal responsibility, and nation building. The project's long term aim is to help develop a critical mass of servant leaders in various sectors of society who will leverage their leadership ability to serve and improve the lives of their fellow Filipinos.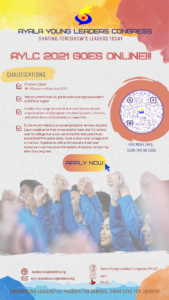 To encourage initiative and promote empowerment, interested eligible students must directly apply online; the school no longer nominates them. Applicants will go through a multiphase screening process to carefully select the top 70 among them who will be participants in the AYLC 2021.
Due to the pandemic, this year's AYLC will be held online. While the congress will continue to provide participants opportunities to develop a principle and values-based leadership orientation, learn leadership perspectives from exemplary sectoral leaders, and process their own leadership concerns and issues, it will not be the usual four-day offsite gathering, but will instead be a four-week online leadership congress. The program will consist of synchronous learning experiences on four consecutive Saturdays, and asynchronous learning experiences during the weeks in between.
Application will be from 01 March to 04 April 2021. Deadlines will not be extended. Forms and guidelines are available at www.ayalayoungleaders.org. Please note that the eligibility for application has been expanded to include those in sophomore year. There is also no longer a limit of 10 applicants per school.
Teach for the Philippines Virtual Information Session
Get to know more about Teach for the Philippines by joining any of our virtual information sessions! Find out how YOU can #LeadTheChange in providing quality education to Filipino students.Attending a TFP Virtual Information Session would be the perfect opportunity to understand the problem of education inequity in the Philippines and TFP's role in education reform.
These online sessions are interactive meetings that will take place over Zoom. To join one, you will just need a stable internet connection and a laptop/mobile device with audio and video capabilities.
Register here: bit.ly/TFP2021VIS
Stay safe, mga Iskolar ng Bayan!
---