Eugene Solla
October 4, 2021
In an effort to provide guidance and give a glimpse of how #BuhayIsko feels like, the UP Diliman Office of the Vice Chancellor for Student Affairs (OVCSA) officially launched the UP Diliman Student Survival Guide.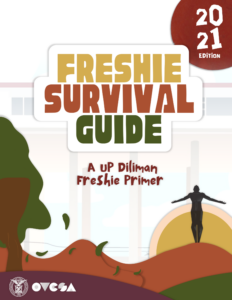 "There is no doubt that this will be another semester of compromises, no doubt that we will always be looking for silver linings and rainbows-after-rains—and there will be rains. And so we must prepare," Prof. Louise Jashil R. Sonido, incumbent Vice Chancellor for Student Affairs, told the over 2,000 freshie participants in her remarks during the Freshie Orientation Program (FOP) held last 10 September 2021 via Zoom.
While extremely beneficial to the fresh faces of the University, the 50-page manual aims to serve the general student population of the campus by incorporating tips, hacks, infographics, slam book-like forms, and features about the unique and life-changing culture of the country's premier state university.
Buhay Peyups Survival Tips
In this section of the handbook, insightful tips and tricks to survive "Buhay Peyups" from prominent UP Diliman alumni are featured. From academics, advocacy building, UP mail perks, self-love, to jeepney routes, your ates and kuyas got your back!
The UP Grading System: Food Edition
Alam ninyo ba na ang grades ay parang pagkain? Minsan matamis, minsan maalat, minsan mapait. Kaya let our response be: "Grades don't define me… unless mataas."
Kidding aside, the UP Grading System may really seem intimidating. Iskos and Iskas may encounter difficulty grasping how well they are performing especially when they are new to the system. They might even start doubting the hard work they have been putting into their majors, when they can't seem to get a grade higher than dos. 
Fear not, because through this section, Iskos and Iskas can get to know UP's grading system more… in a delicious way!
Learning Essentials
As students of the University, every Iskolar ng Bayan should keep in mind that there are available resources geared towards the enrichment of their academic life in UP Diliman, with some being especially vital in the context of remote learning. In this part of the manual, a comprehensive compilation of pertinent University services and offices concerned on academic life are featured.
Eybisidiliman: The ABC's of Buhay Peyups
Through this portion, Iskos and Iskas can familiarize themselves with UP life by learning buzzwords and trivia. With "Eybisidiliman: Letras y Figuras" as its original title, the artwork is a masterpiece of Anthony Kristan Dela Cruz, a Visual Communication student from the UP College of Fine Arts (CFA). 
Aside from the abovementioned sections, the handbook contains inspirational messages from key officials and alumni who are there to remind Iskos and Iskas on the big, wonderful, energetic world of UP Diliman. 
"This handbook will acquaint you with life in UP… I hope that your stay here in UP will show you how your education takes place not only during class hours or in front of your devices, but that it's very much alive everywhere on campus, particularly in your interactions with other people, may that be virtual or otherwise," UP Diliman Chancellor Fidel R. Nemenzo said as he banked on the prominent view that education happens beyond the walls of the (virtual) classroom.
The UP Diliman Student Survival Guide can be accessed at https://bit.ly/FOP21guide. 
Muli, maligayang pagdating at pagbabalik, mga Iskolar ng Bayan! Padayon!
#BuhayIsko
#UPFight
#DefendUP
---