Eugene Solla
February 13, 2022
Hello there! The UP Diliman Office of the Vice Chancellor for Student Affairs' #OpportunitiesCorner is an update on available scholarships, exchange programs, conferences, workshops, and other skill-enhancing initiatives for UP Diliman students. Here's for the second week of February 2022!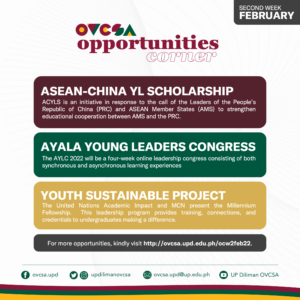 ASEAN-China Young Leaders Scholarship (ACYLS) 2022 Programme
ACYLS is an initiative in response to the call of the Leaders of the People's Republic of China (PRC) and ASEAN Member States (AMS) to increase people-to-people exchanges, strengthen educational cooperation and promote academic exchanges and linkages between AMS and the PRC. It aims to foster socio-cultural and people-to-people exchanges to build a closer ASEAN-China community with a shared future.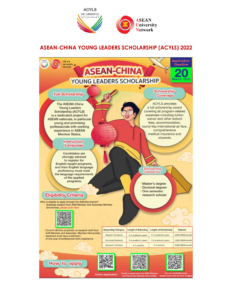 The scholarship provides a rare and unique opportunity for ASEAN professionals and future leaders to enrich their knowledge, broaden their horizons, develop work skills, and improve their competitiveness while enhancing their life experiences by living and studying in China. ACYLS provides a full scholarship award covering all program-related expenses such as (i) tuition and other school fees, (ii) accommodation, (iii) round-trip international airfare, (iv) comprehensive medical insurance, and (v) stipends.
The 2022 intake of ACYLS includes awards for (i) master's degree programmes, (ii) doctoral programmes, and (iii) one-semester (4-5 months) research scholarship programmes.
Prospective applicants must complete the online application by visiting CGSIS (Chinese Government Scholarship Information System) at http://www.campuschina.org and click "Scholarship Application for Students" on top to register and log in. Kindly note that each applicant must submit their application online by filling out the application information and uploading all necessary supporting documents.
Ayala Young Leaders Congress 2022
The Ayala Young Leaders Congress is a concrete expression of the Ayala Group's commitment to national development. It is the keystone of "Shaping Tomorrow's Leaders", the youth leadership development program launched in 1998 by the Ayala group of companies as a strategic investment in the youth, and ultimately, in the future of the country. Ayala's dream is to nurture a community and form a network of values-based and principled Filipino leaders committed passionately to nation-building and to uplifting the lives of their fellow Filipinos.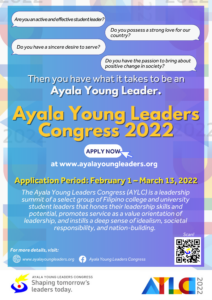 The AYLC 2022 will be a four-week online leadership congress consisting of synchronous learning experiences on four consecutive Saturdays, and asynchronous learning experiences during the weeks in between. These powerful and very meaningful learning opportunities range from learning leadership perspectives from exemplary sectoral leaders to processing their own personal and leadership aspirations and concerns.
Application for AYLC 2022 will be from February 1 to March 13, 2022. To encourage initiative and promote empowerment, interested eligible students must directly apply online; the school no longer nominates them. Applicants will the go through a thorough multiphase screening process to select the top 80 among them who will be participants. The application deadline will not be extended.
For more info, visit www.ayalayoungleaders.org
Youth Sustainable Project Competition
Young people have the ideas, creativity, and energy to shape a better world.
To support ASEAN's changemakers, the Delegation of the European Union and the ASEAN Secretariat are running the Youth Sustainable Project Competition. In this competition, young people are invited to share their projects through a one-minute video pitch.
Ten of the best video pitches will be awarded FREE mentorship sessions by project experts and unique PRIZES from the EU Delegation to ASEAN.
REGISTER NOW: https://bit.ly/YSUPCOMP
DEADLINE: Sunday, 13 February 2022, 23:59 (GMT+7)
Thank you!
4th Cities and Municipalities Competitiveness Index (CMCI) Academic Symposium
The Department of Trade and Industry – Competitiveness Bureau (DTI-CB) invites your institution to participate in the 4th Cities and Municipalities Competitiveness Index (CMCI) Academic Symposium.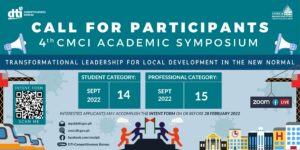 The Symposium, which is open to all researchers and enthusiasts – individual or group, aims to heighten awareness on the wealth of information that can be mined from the CMCI data and intensify its utilization, as it provides useful baseline information and allows for statistical analysis that offers strategic imperatives and policy recommendation for decision-makers.  It also serves as an avenue to present possible improvements and modifications on the CMCI initiative to uphold regional competitiveness and foster economic growth.  
For more information, please contact Ms. Judy Anne Chan via email, JudyAnneChan@dti.gov.ph, or Viber at +639952520275. 
---