Eugene Solla
July 16, 2021
Taking the first step in achieving our dreams is perhaps one of the most challenging things to do especially in the middle of a global health crisis. But amidst all the uncertainties and bricks that life throws at us, we remain steadfast in pursuing our goals through the support that we get from other people.
To all the incoming Freshies ng Bayan in the University of the Philippines Diliman, know that the UP Diliman Office of the Vice Chancellor for Student Affairs is here to help you all throughout your journey in the University. To serve as guide on available student services that you can avail during your first year and even beyond, we have prepared this Freshie Guide that you can access at your own convenience!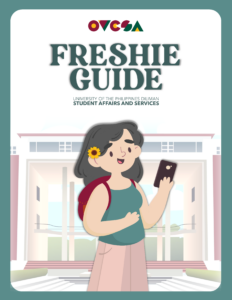 This primer introduces the various services offered by the OVCSA and its sub-units to students, particularly freshies. It provides an overview of each office and their services, as well as updated contact details for further information and coordination.
Once again, congratulations and welcome to the premier state university of the country! May you enjoy your stay and make use of your learnings inside and outside the [remote] classroom in service of the Filipino people!
Padayon, Freshies ng Bayan!
#UPFight
#WalangIwanan
---